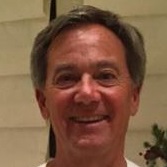 Robert RadnotiEM Chemical Engineer (retired)
Head Coach Pepperdine University (retired)
Robert Radnoti served as Founder and Chairman of the Board of the United States Corporate Athletic Association (USCAA). Radnoti created the USCAA FitNews magazine, produced two nationally syndicated televised programs of the USCAA Championships (1991-92) and was the event director of the USCAA National Championships in 1985, 1986, 1991, 1992 and 1998, where he negotiated the involvement of Carl Lewis, Edwin Moses and Anthony Kennedy Shriver.

A serious student of cross country and track and field, Radnoti has achieved his USATF Level II coaching certification.

A native of Las Vegas, Nevada, Radnoti attended Greeley West High in Greeley, Colorado, where he enjoyed a standout career. Radnoti held school records in all the distance races, the 880, mile and two mile. He finished as runner-up in the 1975 state cross country championships.

Radnoti attended the University of Colorado, one of the premier distance-running programs in the nation, and enjoyed an outstanding four-year career. While a member of the Buffaloes, Radnoti qualified for and competed in two NCAA cross country championship events.

After graduating with honors while earning a degree in chemical engineering, Radnoti moved to California, where he began a career as a chemical engineer at Exxon. While there, he formed and coached a professional corporate track and field team, The Tigers, for 17 years before assuming the head coaching position at Thousand Oaks High in 1998. He also completed his MBA at UCLA while working full-time at Exxon.

Prior to joining the Pepperdine staff, Radnoti enjoyed great success at Thousand Oaks (Calif.) High School. His track and field teams compiled a 209-12 overall record, while the cross country teams finished with a 416-17 mark in the tough Marmonte League in Ventura County. The high point of Radnoti's tenure at Thousand Oaks came in 2005 when he led the girls' cross country team to the California Division I state championship -- the first-ever for the Thousand Oaks girls' team. In addition to his coaching responsibilities, Radnoti was active in fundraising and oversaw the construction of a new all-weather track. Thousand Oaks High School has produced numerous national record-holders and has an impressive group of alumni that includes Olympian Marion Jones. As head coach of the Pepperdine men's and women's cross country and track and field teams, Robert Radnoti continues his mission of leading the programs to national prominence.

Radnoti's student-athletes have shined both academically and athletically. Since the fall of 2006, when he took over the cross country program, runners have earned West Coast Conference all-academic honors 71 times and WCC Commissioner's Honor Roll status 207 times.

Since 2006, Pepperdine cross country student-athletes have also been named to the All-WCC first team a total of six times, five by the women and once by the men. Under Radnoti's tutelage, Chelsea Wishard became the first three-time All-WCC honoree in program history. In 2010, the Waves had two women's runners finish in the top five for the first time ever when Wishard placed second and Lauren Lodge was fifth. Radnoti began as an assistant women's track coach in the program's inaugural season of spring 2006, and would later become the full-time head coach in 2007. In 2008, Radnoti brought back men's track to Pepperdine after a long absence. In 2016, the Waves competed in women's indoor track for the first time, while expanding opportunities for the men's outdoor team. In track, the teams continue to set new marks year after year, highlighted by a whopping 12 new outdoor marks in 2016.

In summer 2012, Sarah Attar became the first Pepperdine track Olympian in the Malibu era when she captured the world's attention by becoming one of the first female athletes ever to compete for Saudi Arabia. She ran the 800 meters at the London Games. "This is really a dream come true for me," Radnoti said upon his hiring. "To be able to step into a head coaching position at a Division I university is something I have always wanted to do. There is a strong foundation here at Pepperdine and I feel like the program is moving in the right direction to become one of the premier running programs in the nation. We have a great group of athletes, lots of excitement with prospective student-athletes and I am confident both the cross country and track teams will continue to show growth and improvement." A well-respected coach in Southern California, Radnoti was honored with a Lifetime Achievement Award by the California Coaches Alliance. He speaks at various clinics and high schools throughout the country.

Radnoti resides in Malibu. He has two children, Kristina and Tom. He married Pepperdine alum and former All-American women's tennis player Noelle Porter in 2012.